The Consortium Mba Essays Free
Tag Archives: The Consortium
November 25, 2014
3 Challenges Facing B-School Recruitment
Top MBA programs worldwide value diversity because the presence of distinctly different points of view usually leads to more enriching discussions in the classroom and beyond. However, there are challenges to creating a diversified cohort, … →
Posted inGeneral|TaggedDiversity, Forté Foundation, The Consortium, Women MBAs
August 18, 2014
Assess 5 Funding Options to Help Pay for an MBA
This post originally appeared on Stacy's "Strictly Business" MBA Blog on U.S.News.com Getting your MBA acceptance letter is a once-in-a-lifetime experience, but submitting your deposit for business school is a thrill of a different kind. … →
Posted inGeneral|TaggedCommonBond, Forté Foundation, loans, MBA scholarships, paying for your MBA, The Consortium, US News Strictly Business
August 6, 2013
SBC Scoop: Diversity Application Through The Consortium
Lydia was confused about the various options available to her as she started researching for her MBA application. As an African-American applicant she realized that her profile was underrepresented in the MBA application pool, and … →
Posted inSBC Scoop: Client Case Studies|Taggedadvice, applications, Consortium for Graduate Study in Management, essay tips, MBA program, The Consortium
June 25, 2013
Georgetown MBA Program Joins The Consortium
The Consortium for Graduate Study in Management, a national not-for-profit organization focused on diversity and inclusion in American business, has added Georgetown University's McDonough School of Business to its list of prestigious business schools. The … →
Posted inSchool News|TaggedDavid A Thomas, Diversity, Georgetown MBA, Georgetown McDonough, The Consortium
June 13, 2012
Record-Breaking Year for The Consortium
The MBA class of 2014 will include 391 of a record 1,038 applicants to The Consortium for Graduate Study in Management, a national coalition of top U.S. business schools and corporations and the leading advocate … →
Posted inGeneral|TaggedDiversity, Paul Danos, Peter Aranda, Scholarships, The Consortium, Tuck School of Business
September 17, 2010
5 Ways to Overcome Test Anxiety
Test anxiety plagues most people preparing for the GMAT to some degree. Peter Aranda, executive director and CEO of The Consortium for Graduate Study in Management–the preeminent organization for promoting diversity and inclusion in American … →
Posted inGeneral, Test Prep Advice|Taggedadvice, GMAT, MBA programs, Peter Aranda, test prep, The Consortium, Tips
Inside the Consortium Application

The deadline to submit applications for the Consortium for Graduate Study in Management has just passed, but if you are in the early stages of considering whether an MBA is right for you, now's as good a time as ever to get to know more about the Consortium, who's eligible to apply, and the many benefits Consortium Fellows enjoy. Hint: They include merit-based, full-tuition fellowships, recruitment events, webinars and chats, networking opportunities, and more at the Consortium's 19 leading member business schools. And to those of you who got your applications in by the January 5th deadline for the 2018-2019 admission season, congrats and good luck!
Inside the Consortium Application Process
The representation of minority students in MBA programs has long been an area of concern. Though African Americans account for 12 percent of the U.S. population and 10 percent of bachelor's degree earners, they make up only 8 percent of people who sat for the GMAT in 2015. For Hispanic Americans the numbers are even lower: They comprise 17 percent of the U.S. population, but only 10 percent of bachelor's degree earners and 7 percent of GMAT examinees, according to Understanding Underrepresented Populations in the Business School Pipeline, a research report produced by the Graduate Management Admission Council. Fortunately, groups like the Consortium for Graduate Study in Management are working to change this reality.
The Consortium is a nonprofit organization dedicated to helping more underrepresented minority candidates earn an MBA degree and become corporate leaders. It does this by providing access to merit-based, full-tuition fellowships, recruitment events, webinars and chats, networking opportunities, and more. Think of the Consortium as a thriving network of leading graduate schools, corporate partners (including Fortune 500 companies), MBA students and alumni (9,000 total), government agencies, and entrepreneurial ventures.
With the first application deadline for the Consortium approaching on October 15th, we wanted to cover the details of applying. The Consortium typically recruits a class of 400 students each academic year, asking that those who apply demonstrate a commitment to increasing the ranks of African Americans, Hispanic Americans, and Native Americans in business education and corporate leadership. You do not have to be an underrepresented minority yourself to apply, just committed to the Consortium vision.
The Consortium Application Process
The first step to applying for the Consortium is to create an account. Once you have done so, you can login and begin the application.
The Consortium streamlines the MBA application process, enabling you to apply to up to six of 19 members schools using a single application. This means not only less time and effort, but also less expense. The cost of submitting applications through the Consortium is as follows:
$150: One or two schools
$200: Three schools
$240: Four schools
$275: Five schools
$300: Six schools
However, it's important to note that the "streamlined" part of the process only refers to the elements requested by every school:
Personal Data
Academics (transcripts, test scores, undergraduate information, etc.)
Employment History
Résumé
Recommendations
Each individual school requests that Consortium applicants respond to essay prompts and qualifications that are specific to its program. For example, if you choose to apply to UC Berkeley's Haas School of Business, you will be prompted—via the Consortium application—to complete that school's two required essays and four optional essays.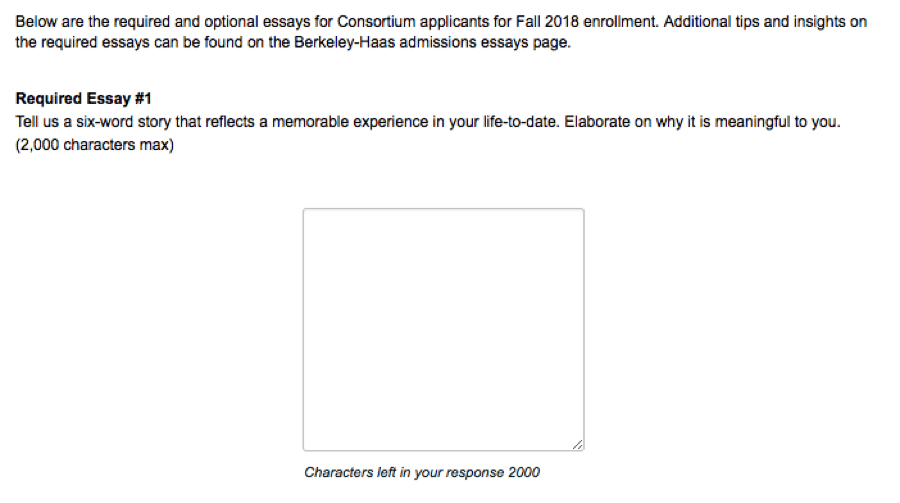 Applying to NYU Stern via the Consortium application, meanwhile, requires answering one question about your fit with NYU Stern and a second, the "Personal Expression" or "Pick Six" prompt that school debuted this year.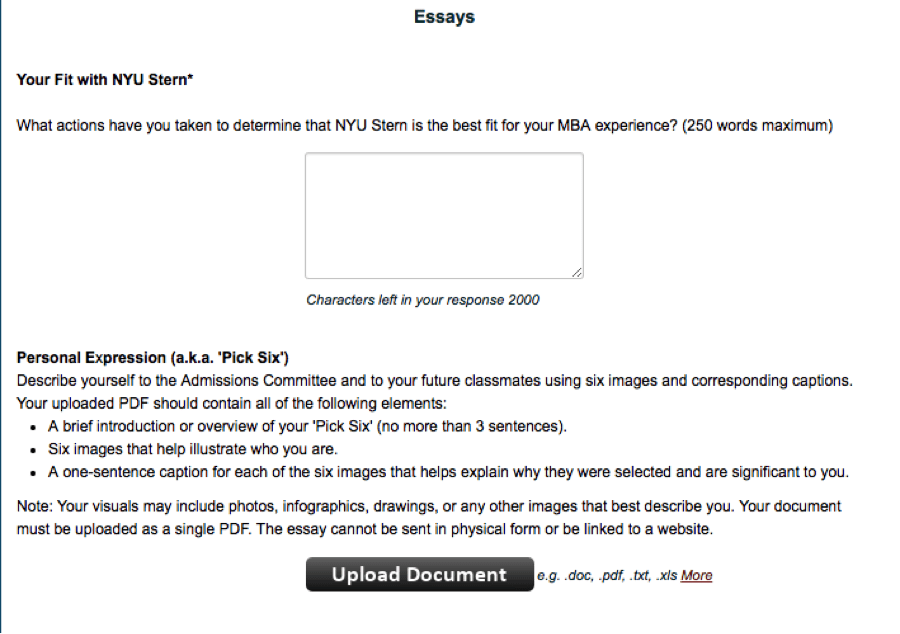 Rank Your Consortium Schools Carefully
One of the most critical parts of the Consortium process comes after you've completed the other sections of the application and chosen up to six schools. Then it's up to you to rank your selected schools in order of your desire to attend.

The order in which you rank the Consortium schools is the order in which you'll be considered for the Consortium Fellowship. If your first-ranked school declines to award you funding through the Consortium, the opportunity will be passed on to the next school on your list, and so on. According to a Consortium employee, the schools are not told your ranking system. Instead, they are just not given an opportunity to offer you the fellowship until theirs is the top remaining school on your list.
How does this work exactly?
Let's say that Yale SOM is your first-ranked school and you are admitted into its MBA program. Yale SOM now has first dibs on offering you the Consortium Fellowship. If Yale SOM does offer you the fellowship, everyone's happy and you can choose to attend with the benefit of the fellowship. You may still be admitted to other programs on your list, but these programs cannot offer you the Consortium Fellowship.
If, however, you are admitted to Yale SOM but that school does not offer you the Consortium Fellowship—or you are not admitted—the opportunity to offer you the fellowship is made available to your second-ranked school, and on down the line.
It is important to note that while only one school can offer you the Consortium Fellowship, that does not preclude the other schools on your list from offering you other school-specific scholarship funding.
So, as you can see, ranking is very important. The Consortium Fellowship, once awarded by one school, is not transferrable to another. You can either accept the award and attend that school, or you can decline it and attend a school without the fellowship. Whether you accept or reject the Consortium Fellowship does not affect your Consortium membership status—only whether or not you receive tuition funding through the program. As long as you ultimately attend a Consortium member school, you will still benefit from membership perks such as recruitment and networking events, webinars, and chats.
Key elements of the Consortium Fellowship to remember:
You can only be awarded the Consortium Fellowship by one school.
The Consortium Fellowship will be awarded according to the order in which you rank the schools to which you apply. Your top-ranked school has the first chance to offer you the fellowship, and only if that school declines does the opportunity pass on to your second-ranked school and so forth.
The Consortium Fellowship is not transferrable. If you turn down the scholarship at your top-ranked school, you are not eligible to receive it from another of the schools you applied to using the Consortium application.
The Consortium Schools
The Consortium works with 19 member schools. These are the only schools that can offer the Consortium Fellowship, and students must attend a member school to be Consortium members themselves. The Consortium member schools are all highly ranked and nationally recognized, but they do not include some of the most elite programs, such as Harvard Business School, Stanford Graduate School of Business, or the University of Pennsylvania's Wharton School. Of course, applying to any of the following schools as part of the Consortium does not preclude you from applying to other schools independently.
The list of member schools is as follows:
University of California, Berkeley, Haas School of Business
University of California, Los Angeles, Anderson School of Management
Carnegie Mellon University, Tepper School of Business
Cornell University, Samuel Curtis Johnson Graduate School of Management
Dartmouth College, Tuck School of Business
Emory University, Goizueta Business School
Georgetown University, McDonough School of Business
Indiana University-Bloomington, Kelley School of Business
University of Michigan-Ann Arbor, Ross School of Business
New York University, Stern School of Business
UNC Chapel Hill, Kenan-Flagler Business School
Rice University, Jones Graduate School of Business (added this July!)
University of Rochester, Simon Business School
USC, Marshall School of Business
UT Austin, McCombs School of Business
University of Virginia, Darden School of Business
Washington University in St. Louis, Olin Business School
University of Wisconsin-Madison, Wisconsin School of Business
Yale University, Yale School of Management
The early application deadline is October 15, 2017, and the traditional application deadline is January 5, 2018. The earlier you apply the better. Each school has a limited number of fellowships available, and this number varies by school and year. Typically, only 60 to 70 percent of Consortium members receives a fellowship. If your top-ranked school awards all of its fellowships before receiving your application, the opportunity to offer you funding will be passed onto the next school, which may or may not have any fellowships left to give. Fellowship notifications begin in mid-December and continue through mid-March, with most awarded in March.
To start your application process with the Consortium, visit the organization website.
Posted in: Application Tips, Feature Small, MBA News, News
Schools: Berkeley / Haas, CMU / Tepper, Cornell / Johnson, Dartmouth / Tuck, Emory / Goizueta, Georgetown / McDonough, Indiana / Kelley, Michigan / Ross, NYU Stern, Rice / Jones, Rochester / Simon, UCLA Anderson, UNC Kenan-Flagler, USC / Marshall, UVA / Darden, Washington U. / Olin, Wisconsin, Yale SOM
Related